The Japanese electricity industry is currently being gradually deregulated in the hopes that high electricity prices can be reduced. At the same time the government is keen to encourage more use of nuclear power. It is aiming to reuse nuclear fuel in order to close the nuclear fuel cycle and thereby reduce Japan's reliance on imports to fuel electricity generation.[1] However deregulation in other parts of the world has not brought prices down, nor has it been conducive to investment in nuclear power. More importantly, the competitive pressures encouraged by deregulation do not encourage reliability and safety, issues which are very important to the Japanese people, particularly in the wake of a series of nuclear accidents over the past decade.
History
During the early part of the 20th Century some 700 electricity companies were set up in Japan. These were merged after the first world war into just five. During the second world war the government combined these five into one generating company, Nihon Hassoden KK, and nine distribution companies. Electricity infrastructure was badly damaged during the war but electricity production accelerated again after the war.[2]
In 1951, whilst still under American occupation, Japan's electricity industry was reorganised according to the US model of state-regulated privately-owned monopoly utilities. The country was divided into nine regions and in each region a single privately-owned utility was given a monopoly to supply electricity. (In 1972, when Okinawa was returned to Japan, the number of general electric utilities (GEUs) was increased to ten.) These GEUs are vertically integrated to include generation, transmission, distribution and retail supply. They are:
Hokkaido Electric Power Co., Inc.,

Tohoku Electric Power Co., Inc.,

Tokyo Electric Power Co., Inc.,

Chubu Electric Power Co., Inc.,

Hokuriku Electric Power Co., Inc.,

Kansai Electric Power Co., Inc.,

Chugoku Electric Power Co., Inc.,

Shikoku Electric Power Co., Inc.,

Kyushu Electric Power Co., Inc., and

Okinawa Electric Power Co., Inc.
Tokyo Electric Power, which includes Tokyo in its region of supply, serves 24 million customers and is the world's largest privately-owned electric utility and one of Japan's most profitable companies.[3]
The generation of wholesale electricity in Japan is mainly done by the GEUs (75%) but it is supplemented by other electricity generators, referred to as wholesale electric utilites (see Figure 21.1). The largest is the Electric Power Development Company or J-Power, which was created in 1952 by the government to augment electricity supplies nation-wide at a time when the GEUs did not have the financial capacity to meet electricity demand. It is government owned and funded and builds transmission lines as well as power stations. It operates 67 power stations. [4]
The other major wholesale utility is Japan Atomic Power Co (JAPC) was created in 1957 as a joint venture of the GEUs, J-Power and industry interests, to promote the commercialisation of nuclear energy and import nuclear reactors. It owns four of the nation's 52 power stations (one of which is no longer in operation).[5] In addition thermal power plants were built "during the postwar high-growth period" as joint ventures between GEUs, steel makers and other industrial users. Municipal governments also operate their own generating plants, particularly hydroelectric plants.[6]
Figure 21.1 Generating Capacity by Ownership - 1994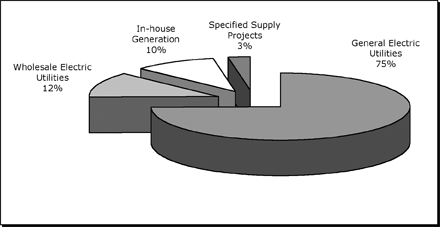 Source of data: Kibune, Hisabe. 'Regulatory Reform and Its Effect in the Japanese Electric Utility Industry.'
Economic Analysis Series(142). December 1995: 89-122, p. 93.
In 1994 GEUs supplied 90 percent of the nation's retail electricity market. Ten percent was supplied by in-house power producers. These are paper and pulp, chemical, steel and oil refining industries that generate their own electricity, often with steam that is a by-product of their manufacturing processes. Industrial users generated about 28 percent of their own electricity requirements as a way of keeping their costs down.[7]
Specified Supply Projects supply about 3 percent of electricity directly to particular customers. These include municipal councils supplying their own departments, companies supplying electricity for housing or buildings they own, and electricity supply from one company to another with a close relationship.[8]
Until 1995 the industry was closely regulated, under the Electric Utility Industry Law (1964) by the Public Utilities Department of the Agency of Natural Resources and Energy. This regulation was supposed to protect the public interest; to guard national security; to prevent pollution; to promote adequate development of the electricity sector; to ensure that the private GEU's did not take advantage of their monopoly position to extort consumers, and to ensure safety. Although the regulations did not guarantee monopolies to GEUs the rules required that, before it could be licensed, a GEU had to show that it could supply enough capacity to meet demand in an area and not duplicate existing capacity. This essentially prevented the establishment of competing utilities within each region. [9]
GEUs, in turn, were obliged to meet demand at rates that had to be approved by the Ministry of International Trade and Industry (MITI). This rate was based on cost of production plus a fair rate of return, as was the case for US electricity utilities. The ten companies cooperated to ensure that demand could be met, by exchanging and supplying each other with electricity in times of need. The regional grids were linked by interconnections to facilitate this. The GEUs also cooperated on research and development of new technologies and systems of procurement.[10]
Japan has little in the way of indigenous resources for generating electricity, apart from hydroelectric power, and is therefore very dependent on imports. As can be seen from Figure 21.2 below, the main sources of electricity until the 1970s were oil, coal and hydroelectricity. Japan relied mainly on hydroelectric power until the 1950s when the use of oil expanded because at the time it was cheap and oil power stations could be built quickly to keep up with post-war growth. Oil supplied a peak of 74% of electricity in 1973 when the first oil crisis hit but declined rapidly after that.[11]
As a result of the oil crises of the 1970s, oil became an expensive fuel source and Japan sought to diversify its sources of electricity, relying more on nuclear energy and liquid natural gas (LNG). All the GEC's except Okinawa Electric Power Company constructed nuclear facilities. Today, hydroelectric power, nuclear power, coal and natural gas are used for base load and mid-range load whilst oil is used for peak loads together with pumped storage hydroelectric power.[12]
The 52 existing nuclear rectors operating in Japan supply one third of the nation's electricity, giving it the third largest stock of nuclear power plants in the world, after the US and rapidly catching up with France.[13] It is predicted nuclear power will provide 41% of Japan's electricity by 2012, (see Figure 21.2). Three more reactors are currently under construction and 8 in advanced stages of planning.[14]
Figure 21.2 Composition Ratio of Generated Electricity by Fuel in Japan
* Projected Source of data: 'Electricity Review Japan.' The Federation of Electric Power Companies of Japan, 2004 http://www.fepc.or.jp/english/erj/erj2003-2004.pdf, p. 8.
Nuclear Accidents
The government goal of more nuclear power is despite widespread public opposition to nuclear power. A series of nuclear accidents and cover-ups have raised public concerns about nuclear power (see Table 21.1).
Table 21.1 Accidents# and Revelations of Mismanagement in the Industry 1995-2004
Year

Place

Owner

Incident

Radiation
Exposure

Scale*

Status

Monju fast-breeder reactor prototype

PNC

Massive coolant leak

still closed

1997

Tokaimura fuel reprocessing plant

PNC

Fire and explosion

37 workers

3

closed 3 years

1997

Tokaimura uranium fuel production plant

PNC

False alarm warning that fuel reached critical mass

?

1997

Fugen advanced thermal reactor

PNC

Radioactive tritium leaked

11 workers

?

temp. closure

1997

Tokaimura radioactive waste storage facility

PNC

Revelations of low-level radiation leaks over 30 years

na

1999

Tsuraga nuclear power plant

JAPC

Worst ever radioactive coolant leak

1

temp. closure

1999

Tokaimura uranium processing plant

JCO

uncontrolled nuclear chain reaction

>600 people

2 workers die

300,000 residents ordered to stay indoors

4

still closed

2000

Fugen advanced thermal reactor

JNC

Controlling rods in incorrect position

?

temp. closure

2000

Joyo experimental reactor

JNC

Controlling rod malfunction

?

temp. closure

2000

Mihama nuclear power plant

KEPCO

Cracked pipe, coolant leak

1

temp. closure

2001

Hamaoka nuclear power plant

CEPCO

2 unrelated radioactive leaks

1

temp. closure

2002

Fukuishima Daiichi nuclear power plant

TEPCO

Core shroud cracks

1

temp. closure

2002

Tokyo Electric Power Company

TEPCO

Admits it falsified data on maintenance checks

na

temp. closure of all reactor

2002

For a full list of incidents during 2003 see Citizens Nuclear Information Centre (CNIC) at http://cnic.jp/english/newsletter/nit95/nit95articles/nit95significant.html

2003

For a full list of incidents during 2003 see Citizens Nuclear Information Centre (CNIC) at http://cnic.jp/english/newsletter/nit101/nit101articles/nit101siginc.html

2004

Tsuruga nuclear power plant

JAPC

Workers sprayed with contaminated water

8 workers

?

2004

Mihama nuclear power plant

KEPCO

Burst pipe containing high-pressure steam

5 workers killed

6 in hospital

0+

temp. closure
* International Nuclear Event Scale (INES) – from 0 to 7 (Chernobyl=7, Three Mile Island=5)
# Technically only an event of 4 to 7 is an accident, the others are incidents
PNC = government-owned Power Reactor and Nuclear Fuel Development Corp or Donen
JNC = Japan Nuclear Cycle Development Institute, a reformed version of PNC
JCO = private company, wholly owned subsidiary of Sumitomo Metal Mining Co Ltd.
CEPCO = Chubu Electric Power Co.
TEPCO = Tokyo Electric Power Co.
KEPCO = Kansai Electric Power Co.
There were efforts to cover up several of these incidents or lessen their perceived extent. The operators of the Monju fast-breeder reactor edited videotapes of the leak to cover up the extent of the accident but this became public and did nothing to reassure the public. Managers at the Tokaimura fuel reprocessing plant, where 37 people were exposed to radiation, "coerced workers into telling a consistent but false timeline of events". In addition there were revelations about the poor safety measures undertaken at the centre.[15]
In 2002 Tokyo Electric Power Co. (TEPCO) admitted that had not accurately reported damage to its nuclear power plants for some years.[16]
The first incident involved hiding cracks in the reactor shroud. This was followed by the discovery that Tokyo Electric Power Co. (TEPCO) had also found cracks in the recirculation piping system, but had failed to report them. Then, there was the cover-up of the results of the leak rate inspection test for the containment vessel…[17]
Poor inspection methods and negligence have also been blamed for some of these accidents such as the latest at Mihama power plant which involved a pipe installed in 1976 and not inspected since, despite warnings about it some months before the accident. Other pipes in the plant, including those in more critical areas, have also gone uninspected.[18]
In 1998 the government agency Power Reactor and Nuclear Fuel Development Corp (PNC), which was under fire for its mismanagement of nuclear facilities, was replaced with the Japan Nuclear Cycle Development Institute (JNC). JNC is now responsible for nuclear research and development in the field of fast-breeder reactors, high-level radioactive waste disposal and spent fuel reprocessing.[19]
In response to growing public concern about nuclear power, the power companies created a Panel for Restoring Confidence made up of the presidents of the 10 GEUs, the JAPC, the EPDC and Japan Nuclear Fuel Ltd (JNFL).[20] One of the more recent arguments made for nuclear power has been that it aids Japan to meet its Kyoto commitments, however no solution has yet been found for disposing of nuclear waste and the government's efforts to close the nuclear cycle by recycling used uranium into plutonium has been less than successful.
The Nuclear Waste Management Organization (NUMO) was formed in 2000 to solve problems associated with disposal of high-level radioactive waste. Japan had been sending its waste to Europe for reprocessing and importing back the reprocessed waste—which is stored—and mixed oxide fuel (MOX), a combination of uranium and plutonium oxides. The government has invested billions of dollars in developing its own reprocessing plant. However there have been a number of scandals over MOX, including the discovery in 1999 that MOX fuel rods arriving in Japan from British Nuclear Fuels Ltd had not been properly inspected and the data on them had been falsified. In addition, Japanese efforts to process and use plutonium and highly-enriched uranium in fast-breeder reactors have not been successful so far and have involved various accidents (see Table 21.1). This has all added to public concern about Japan's nuclear program.[21]
---
References