Consumerism

Reference: Quoted in Andrew Bard Schmookler, The Illusion of Choice: How the Market Economy Shapes Our Destiny (Albany: State University of New York Press, 1993), p. 149; Daniel Bell, 'The Protestant Ethic', World Policy Journal, Vol. 13 (Fall 1996).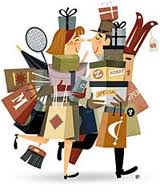 Consumer values have come to replace the work ethic for many people as a motivator for work and as a primary source of identity. This shift was most fully realised after the second world war in the US when Daniel Bell observed: "the culture was no longer concerned with how to work and achieve, but with how to spend and enjoy." Towards the end of the twentieth century he noted that there had been a "shift from production to consumption as the fulcrum of capitalism... Marketing and hedonism became the motor forces of capitalism."

Reference: Perry Pascarella, The New Achievers: Creating a Modern Work Ethic (New York: The Free Press, 1984), p. 31.
People came to regard their jobs as means to getting the money necessary to pay for the consumer items that were being marketed to them. "Demand for goods and services became the flywheel that kept the economic engine running fast and smooth. The spiritual dimension, meanwhile, faded as a justification for the accumulation of wealth."

Reference: Roland Marchand, Advertising the American Dream: Making way for modernity, 1920-1940 (Berkeley: University of California Press, 1985), p. 158.
Ironically the expansion of consumption, necessary to create the markets for the fruits of rising production, "required the nurture of qualities like wastefulness, self-indulgence, and artificial obsolescence, which directly negated or undermined the values of efficiency" and the Protestant Ethic that had originally nurtured capitalism.

Reference: Stuart Ewen, Captains of Consciousness: Advertising and the Social Roots of the Consumer Culture (New York: McGraw-Hill, 1976), pp. 70, 108.
Traditional habits of thrift and patterns of consumption to be overcome. Advertisers sought to redefine people's needs, encourage their wants and offer solutions to them via goods produced by corporations rather than allowing people to identify and solve their own problems, or to look to each other for solutions.

Links