Public Relations Strategies
The attempt to provide a 'green' and caring persona for a corporation is a public relations strategy aimed at promising reform and heading off demands for more substantial and fundamental changes. A PR expert advised in Public Relations Journal:

Reference: Aaron Renner Kwittken, 'Planning proactive corporate environmental communications', Public Relations Journal (April 1994), p. 27.
There really are no solid solutions to many environmental problems other than ceasing to partake in the activity that causes the environmental hazard. Therefore, the key to devising successful solution ideas, is to show that your client cares about the environmental issue at hand.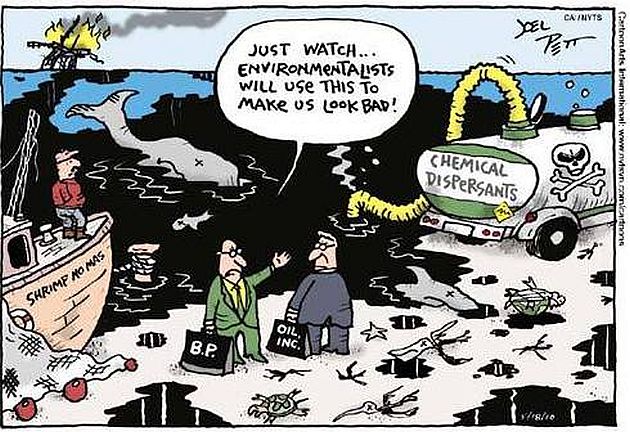 Reference: 'Research Group says some Green Marketers are only Pretending', Marketing News, Vol. 26, No. 2 (1992), p. 3.
The Council on Economic Priorities studied the environmental claims of a large number of corporations and found that "many of them are using 'green' public relations programs as a pro-environmental smokescreen while they continue to pollute." Examples they gave in 1992 included Dow Chemical, which "received favorable publicity for a $3 million wetlands protection program, while downstream from its factories birds were turning up with dioxin-related deformities" and Mobil, which claimed "so-called biodegradable plastic bags would not disintegrate in landfills and that their use should not be encouraged. Then they went ahead and introduced biodegradable plastics with an enormous advertising campaign."

Reference: Lowell F. Ludford, '3P program pays off in costs savings of $500 million for 3M', Public Relations Journal, Vol. 47, No. 4 (1991)
3M is perhaps one of the most successful companies when it comes to attaining a green image. Although it is the 13th worst US corporation when it comes to emissions of toxic chemicals into the environment, the name 3M is almost synonymous with the idea of pollution prevention through its much publicised 3P (Pollution Prevention Pays) scheme. Indeed 3M's 3P program, implemented in the 1970s by two engineers and an 'environmental communications specialist,' has saved $500 million for a very small monetary expenditure, earned a Silver Anvil Award from the Public Relations Society of America, brought much welcome media publicity and helped "soften regulatory attitudes toward the industry".

Earth Day

Reference: Adam Shell, 'Earth Day spawns corporate "feeding frenzy"', Public Relations Journal (Jan/Feb 1990), p. 9.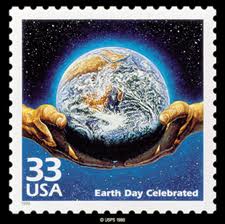 Earth Day each year provides another opportunity for firms to get environmental credentials, deserved or otherwise. One US PR consultant observed: "There's a virtual feeding frenzy among corporations about what roles they will play on Earth Day." On the same topic the public affairs director for the Monsanto Chemical Company has said: "There's a mad scramble for many companies to project an 'I am greener than thou' attitude." The Chemical Manufacturers Association encourages its members to get involved and public relations firms help their clients to "shape and publicise their pro-environment messages."

Reference: Adam Shell, 'Earth Day spawns corporate "feeding frenzy"', Public Relations Journal (Jan/Feb 1990) , p. 16; Wendy R. Whitehead, '25th Earth Day will be a local affair', Environment Today, Vol. 6, No. 2 (1995).
Corporate funding and sponsorship has turned Earth Day into a multimillion dollar event that is marketed with slick glossy brochures and Earth Day merchandise. It provides corporations with a means to green their image and, according to Public Relations Journal, play "a key role in defining the future direction of the environmental movement." Associated events such as fairs, where firms can showcase their 'green' credentials and Clean Up campaigns are common in the mid-nineties. These clean-ups "offer a chance to 'bond' with the community over an environmental cause and to foster 'camaraderie among employees' who are often compensated for their time."

Olympics

Reference: Reference: Liane Clorfene Casten, 'Dioxin Charade Poisons the Press', Extra! (January/February 1992) , p. 13; Jack Weinberg, ed. 'Dow Brand Dioxin: Dow Makes You Poison Great Things', Greenpeace, 1995, part 5.
Some of the major sponsors for the 2012 Olympics in London have poor environmental records. They include BP, Rio Tinto and Dow Chemical. BP, an official Olympics 'oil and gas partner' and one of six 'sustainability partners', has been criticised not only for the Deepwater Horizon oil spill in the Gulf of Mexico in 2010 but also for its continuing acquisition of oil reserves and extraction of oil from tar sands.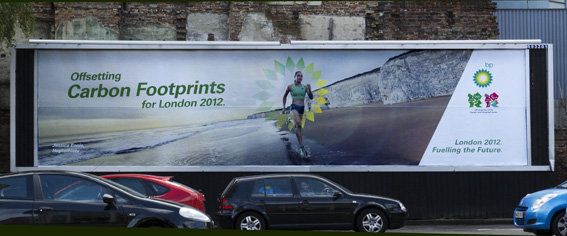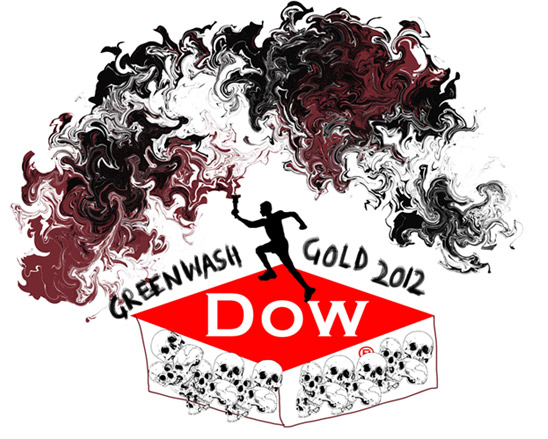 Dow Chemical is a major manufacturer of chlorine, producing millions of tons of chlorine each year, much of which is used to make plastics, solvents, pesticides and other chemicals. It has also opposed many environmental regulations and supported anti-environmental front groups.

Rio Tinto will exclusively provide the metal for the London's medals from their mines, including the Bingham mine in Utah, US. The area around the mine suffers from chronic air pollution which has been linked to premature deaths of residents, according to campaigners. According to Cherise Udell, founder of Utah Moms for Clean Air, 'In Utah, Rio Tinto are the number one emitter of toxins known to cause harm to human health. Every year, between 1,000 and 2,000 Utahans die prematurely due to chronic air pollution and Rio Tinto's Bingham mine is responsible for about 30 per cent of this.'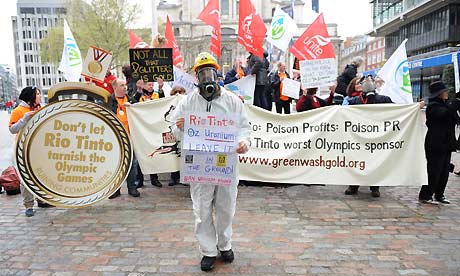 Reference: Quoted in Sharon Beder, Global Spin: The Corporate Assault on Environmentalism, Scribe, Melbourne, 2000, p. 263.
In the lead up to the Sydney Olympic Games in 2000 Greenpeace wrote to Olympic sponsors, including BHP, Coca Cola, General Motors-Holden, McDonalds, and others, offering to help them earn 'green' credentials through association with the Olympics: 'As sponsors, you have the opportunity to play a key role in this success. One of the many benefits of being part of the Green Games is the chance to demonstrate your company's commitment to the environment and to future generations.'

Yet BHP was named one of the worst 10 corporations in 1995 by Multinational Monitor for polluting the Ok Tedi River in Papua New Guinea with a 'daily dose of more than 80,000 tons of toxic mining waste' and 'helping to draft legislation for the PNG parliament that would make it a criminal offense to sue BHP'.

Links