National Association of Manufacturers (NAM)
The Brass Hats chose the National Association of Manufacturers (NAM) as their vehicle of battle and in 1932 big business took over the association and restructured it, under the presidency of 'Brass Hat' Robert Lund of Lambert Pharmacal Co., to ensure that large corporations were well represented on the directorate. NAM claimed the right to call itself 'the voice of American industry' because it represented 35,000 manufacturers, employing some 5 million people.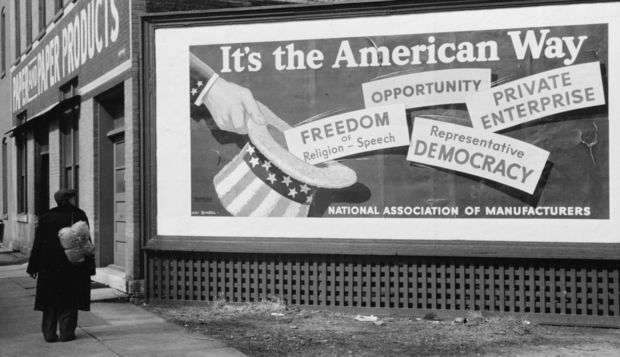 When Lund took over he established a public relations department and a director of public relations within NAM. Membership of NAM doubled over the following 4 years and the contributions of large corporations increased dramatically so that 262 'nationally known' companies were contributing half of NAM's income. These included AT&T, Colgate-Palmolive-Peet, DuPont (the largest contributor), General Motors (the second largest contributor), Eastman Kodak, General Foods, IBM, Johnson & Johnson, Monsanto, Procter & Gamble, Standard Oil, Texas Corporation and Westinghouse Electric.
Following its reorganisation NAM's 'propaganda activities… became one of its most important functions, absorbing more time, effort, and money than all the other functions of the association put together.' It set out to 'sell the 'American way of life' to the American people' and coordinate business opposition to the New Deal.
NAM stated in its 1934 Annual Report that it was spreading 'fairly and at the same time vigorously and militantly' the 'true story of business'. In its less public documents it stated 'Public policies in our democracy are eventually a reflection of public opinion. If we are to avoid disaster, it is essential that this public opinion be informed and able to discriminate between the sound and the unsound' and '[n]ow, more than ever before, strikes are being won or lost in the newspapers and over the radio'.
PR expert Bruce Barton told NAM: 'The [business] story should be told, with all the imagination and art of which modern advertising is capable. It should be told just as continuously as the people are told that Ivory Soap floats…' The chair of NAM's National Industrial Information Committee called for business leaders in each state to get together to help with the campaign in order to 'meet the urgent need of preserving the private enterprise system…. Summed up, the chief concern of business today is that it is not enjoying 'a favourable public'.'
NAM's campaign utilised all the techniques of persuasion that had previously been used to sell products 'to sell the business idea… the American System of Private Enterprise'. These were supplemented by the techniques developed in the new field of public relations. Its National Industrial Information Committee put together a report 'Industry Must Speak' that set out what was involved in such a campaign that 'Day after day, systematically and forcefully' hammered home its message to the American people.

Expansion of the Campaign
Not satisfied with this comprehensive program the Committee looked for ways to expand the campaign and added a national radio program, more community programs, and a program of getting material into schools and colleges 'where the thinking of our future generations should be shaped along sound lines'. Motion pictures and sound slide films were thought to be particularly good for schools because they were 'the most impressive medium for leaving a lasting impression upon children. Here is an almost unlimited field of distribution in which we would be reaching children during their formative years.'
In its effort 'to reach every group… through every channel' the NAM was rather shy about owning up as the source of all this material. NAM's prepared editorials, columns, cartoons and news articles, which reached millions of people, were presented as originating with newspaper staff or independent individuals.
The same was true of its billboard posters, radio programs and other materials. For example, NAM advised in its manual for organising civic progress meetings that the meeting should be 'organized entirely under local sponsorship, rather than under the auspices' of NAM and that 'we do not believe it is necessary to give local publicity to the fact that we supply the speaker. We believe it is more likely to attract a large audience if you announce him as Dr. So-and-So, of Blank University…'
The cost to NAM of the campaign was the fraction of what it would have been on a commercial basis because millions of dollars of billboards, radio time and newspaper space was donated by business interests.

Re-election of Roosevelt
The re-election of Roosevelt in 1936 came as a big shock to many businessmen who had invested in this massive propaganda campaign. The public relations techniques had come 'in certain quarters to command an exaggerated respect, as an infallible and almost automatic mechanism for directing public opinion, needing only to be properly financed'. Yet Roosevelt's landslide victory had shown that public opinion was clearly on his side despite the business campaign.
The business community response was to augment NAM's campaign with a more decentralised but coordinated local business campaign aimed more at local communities. Businesses, individually and under the auspices of NAM, used every medium of communication available to sell capitalism as well as the more usual advertisements in newspapers and magazines which had the added bonus of winning friends in the press. US Steel noted in 1938 that 'The most important thing that faces a big corporation today is what the American people will think and what the American people will do about big business.'
The refreshed campaign aimed, not just at production and dissemination of 'educational' materials, but also strategies that utilised personal social pressures at the community level. The diagram below shows the way that the NAM's National Industrial Council guided their local committees and publicity directors to ensure they would reach all sectors of the local community.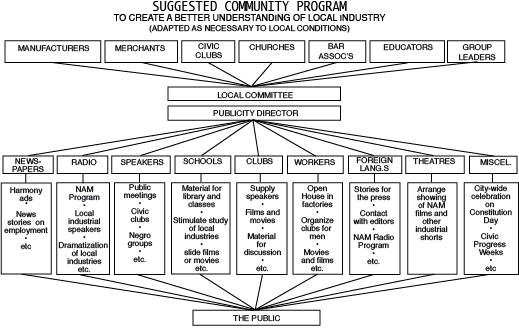 Source: 'Violations of Free Speech and Rights of Labor.' Senate Committee on Education and Labour. 14 August 1939, p. 283.
In addition, individual companies also adopted a more decentralised approach. For example, when General Motors decentralized its capital and administrative authority whilst keeping policy-making power centralised, it found it was not only economically advantageous but also politically useful. It meant that local communities competed to keep or attract local branches of GM and were opposed to any labour strikes or discord that might jeopardise this. Moreover each local branch would carry out its own public relations activities, including establishing friendly personal relations with local businessmen, bankers, newspaper editors, journalists and citizens. In this way 'plants begin to seem less like impersonal branches of big business; they take on the appearance of genuine, home-grown local industries, and drive their roots in among the people.'
Similarly Ford's public relations director noted that 'Business sometimes move… because a town has become infested with the peculiar form of social, political, or unionistic philosophy which confused progress with the persecution of industry'. The steel industry also found decentralisation offered 'the opportunity to control relations with local 'publics'.'