Forest Industry
In many countries the forest industry produces classroom materials. Generally they boast the prevalence of wood products and their recyclability. They portray forests as a renewable resource where wood is not logged but "harvested" and replanted. In these materials logging companies do not cut down forests but "manage" them. Forestry is a sustainable activity and the industry does everything possible to protect the environment including protecting species habitat from harm.

Usefulness of Wood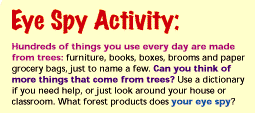 To teach children about the usefulness of wood products the American Forest and Paper Association has an 'eye spy' activity for students where they are asked to find some of the "hundreds of things you use every day" that are made from wood.
International Paper's classroom materials claim that "more than 5,000 products we use everyday are made from trees: furniture, fences, garden mulch, newspapers – even clothing, carpeting, cologne, milk shakes and toothpaste… Whew! What would we do without the use of a renewable resource like trees?"
Forests are Renewable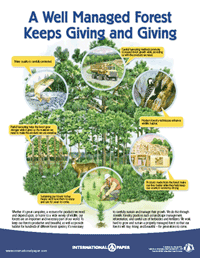 The US forest industry produces classroom material that presents forestry as a sort of agricultural endeavour – "tree farming" – where the rate of replanting exceeds the rate of "harvesting" with no damage to the environment or loss of species habitat.
Weyerhaeser materials claim: "Unlike materials such as steel, cement or plastic, wood is renewable. This means forests can be grown over and over again. In our managed forests, trees are grown in cycles and replanted after each harvest — ensuring a continuous supply." Weyerhaeser refers to its plantations as "managed forests" which "grow at two or three times those of unmanaged forests".
The American Forest & Paper Association materials argue that "Careful forest management allows regular harvesting of timber without adversely impacting air and water quality or wildlife habitats". The materials, which emphasise the recyclabililty of forest products are printed on only 10 percent recycled fibre.
However forests are not renewed by being replaced by plantations, which is what usually happens. Generally plantations are made up of a single species that grows quickly, has high fibre yield and can be easily logged. The trees are planted in rows of trees of the same age and they require heavy use of agrichemicals, including fertilisers, chemical weeding, and herbicides that pollute waterways. Plantations reduce soil fertility, increase erosion and compaction of the soil, and increase the risk of fire. In addition they may lead to a loss of biodiversity because they are monocultures and because their densely packed uniform rows do not provide the variations of form and structure found in a forest.
Project Learning Tree

Many forestry companies fund Project Learning Tree (PLT) "a project of the American Forest Foundation" and "one of the most widely used environmental education programs". It boasts more than 15,000 products, books and classroom kits. "To date, more than 500,000 educators are trained in using PLT materials, reaching approximately 26 million students in the United States and abroad."
Like other forestry industry materials, PLT gives a rather incomplete picture of forestry, omitting "meaningful discussion" of environmental impacts or the role of its funders in resisting legislation to protect forests. This is no surprise given its Education Operating Committee includes representatives of Weyerhaeuser, International Paper, the World Forestry Centre and Plum Creek Timber Company amongst its 13 members.
Downplaying Habitat Loss

The Canadian Forestry Association teaching kit includes activities in which students study species conservation but the role of forestry in species extinction is downplayed and the range of conservation measures it suggests teachers cover do not including a reduction in forestry or changes in forestry practices. For example:
"Habitat constantly undergoes change… it is often due to human impacts. Urban and suburban developments eat up large tracts of land, large-scale agricultural practices remove forests, wetlands and fields from the natural setting, and invasive species push out original inhabitants." [No mention of the role of forestry]
Students are given an exercise where they turn their classroom into a habitat for animals, which they role-play. They are then told a story about a town that is growing and needs more land to provide space for everyone to live. A third of the classroom 'habitat' is allocated for houses for people in the community and the children are asked what they will do in order to survive with less habitat. Here the habitat is taken for the commendable purpose of housing people, avoiding the question of the need to cut down long-established forests that provide habitat for endangered species. The understanding the children are supposed to gain from the role play about the effect on animals is rather simplistic suggesting that they will just have to crowd together.
The National Association of Forest Industries (NAFI) in Australia has produced Timber Trek, a resource that also attributes habitat loss to non-forestry activities: "The process of clearing forests for these purposes and not growing them back is called deforestation. This should not be confused with forestry, which is careful harvesting and regrowing of trees."
However, as in the US, old growth forests are often replaced with plantations with adverse environmental consequences. For example, the poison 1080 is used to stop wallabies and possums eating the new seedlings. This results in the killing of hundreds of thousands of native animals each year including wombats and bettongs.
Praising Clearfelling
Forestry companies attempt to make out that clearfelling is something they do for the benefit of the forest, rather than admitting that it is an efficiency measure that provides easy access to the desired trees and afterwards enables forests to be replaced by plantations which can be more easily "managed".
International Paper's classroom materials make the highly contentious claim that "Clearcutting is the ecologically preferred method for regenerating many forests that mimics natural disturbance processes like storms and fires. It removes all the overstory trees in a stand for the purpose of developing a new stand in a shade-free environment."
Weyerhaeuser also defends what it calls "clearcut harvesting" or "even-aged management" – its "preferred harvest and regeneration method" in its US classroom materials: "It allows sunlight to reach the ground so newly planted seedlings quickly take root and regenerate the forest… These tree species reach their full growth and yield potential when grown in full sunlight." Weyerhaeuser "recognizes that clearcuts are temporarily unattractive" but not that it harms threatened or endangered species.
Similarly, NAFI in Australia states:
Some forests can be harvested by removing selected trees, while in others, nearly all the trees in a coupe need to be felled to expose seedlings to sunlight and reduce competition for water and nutrients. This ensures the development of a healthy new forest.
Clearfelling, far from being accepted as environmentally sound is highly controversial. Scientific studies have shown that in Australia clearfelling is detrimental to species such as the greater glider that tend to die when they lose their habitat rather than move to a new area. The Wilderness Society (TWS) points out that clear felling has various adverse environmental impacts such as removing the old trees with holes and hollows that provide habitat to owls, bats, pygmy possums, sugar gliders, cockatoos and other birds and animals.
Defending Woodchipping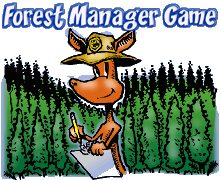 NAFI's school resources give a rosy view of woodchipping, neglecting to mention the debate that rages over the practice.
"Trees used for sawlogs are tall and straight. However, some trees which are not suitable for sawlogs may also need to be harvested to stop them blocking sunlight needed by the new seedlings. These poorer quality trees, which may be diseased or have badly bent trunks, are put to good use. Their wood is chipped and turned into paper and paper products (see Woodchips)."
In contrast the Australian Conservation Foundation (ACF) pointed out:
"The residues referred to by the industry are often eucalypt trees up to six hundred years old with the hollows, broken crowns and rotten centres on which so many native animals, including possums, koalas, parrots and owls, are dependent.
Many of the forests now being clearfelled for woodchips could not produce sawlogs economically. Without a woodchipping industry they would be left alone. The forests in some logging coupes in Tasmania yield as little as four percent sawlogs, with the so-called residue comprising ninety-six per cent of the wood produced from the coupe."
Contributers' Updates and Examples
If you have any examples or updates you would like to contribute please email them to me and I will add them here. Please give references for where you sourced the information.