Nutrition and Health
Food companies have been keen to associate their products with healthy eating and have put together sponsored classroom kits on nutrition and health that downplay or don't mention the unhealthy aspects of their food products and that promote any health benefits their products might have. In the process they distort the concept of healthy and nutritious eating.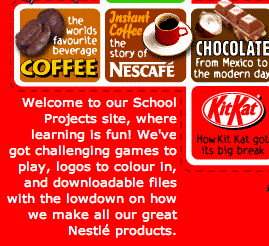 Download sample pages
(pdf 278 kb)
Downplaying Unhealthy Foods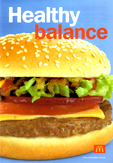 The Sugar Association has put together lessons on dental health which tell students it's okay to eat sugary foods as long as they clean their teeth afterwards.
Kraft foods has created a teaching unit that promotes processed cheese as "economical, wholesome, and versatile". Oscar Mayer's Making Food Safe lessons claim "all food is made of chemicals" and limit the discussion of fat to its essential role in the diet.
KFC's UK website includes lesson materials on healthy eating which state: "you should always try to choose lower fat options such as pure chicken breast meat (as served at your nearest KFC!)…" However, as the UK Food Commission points out, by the time KFC has finished with it, that chicken meat has four times as much fat as when it started.

Promoting Snack Foods
Kellogg's education kits on nutrition promote Pop Tarts and Fruit Loops. They focus on reducing the fat content of breakfasts rather than reducing sugar or salt content. Kellogg's Australian lesson ideas include one on occasional snacks: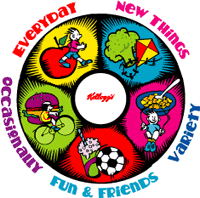 "Snacks can be described as 'foods which are eaten outside of usual meal times'. Snacks play an important role in the diet of both children and adults and can provide important nutrients to the diet. Children have smaller stomachs than adults meaning that it can be difficult for them to get all their nutrient needs in three meals a day.
Everyday snacks that are high in carbohydrate are important for children as they help provide them with the energy they need to be active, as well as the energy they 'burn' while being active."
No mention is made of the health problems associated with eating too many sugary or salty snacks.
Similarly, material distributed to 25,000 primary schools in 2003 by the Food and Drink Federation, an industry association, explained how snacks and drinks can be part of a healthy diet.

Nestlé
Nestlé offers nutritional education in many countries around the world including:
Nestlé Australia's Primary School Projects website offers children a journey of discover but in fact takes them to a website promoting Nestlé products.

Other Food Companies Producing Classroom Materials
NutraSweet's Total Health school lessons teach students how NutraSweet can stop them gaining weight.
Flora's lesson plans that suggest margarine is healthier than butter.
Contributers' Updates and Examples
If you have any examples or updates you would like to contribute please email them to me and I will add them here. Please give references for where you sourced the information.